Korduroy.tv Feature
The guys over at Korduroy.tv have done a great little feature on my shaping history and philosophy for their series 'Local Legendz'. Worth a look with your morning cuppa. Check it out over here.
Webisode: Resin Tints
MC AT THE LOST SPRING FLING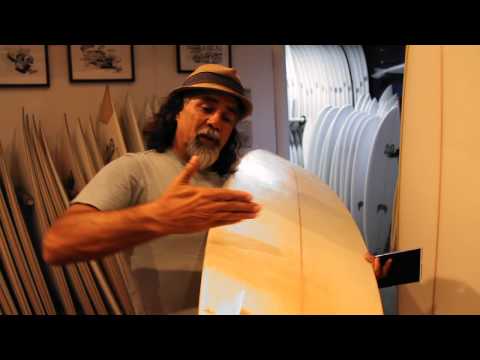 Buggs Crew makes it to the Spring Fling to witness the Launch of Maurice Coles latest and greatest on "What was is, and What is was" sponsored and managed by Matt Biolos. Stoked to share the stoke – Buggs.
Say no more dear reader. The LOST spring fling happened: http://www.youtube.com/watch?v=5BDCGhN1JVA
LOST Hipster T Review is a GO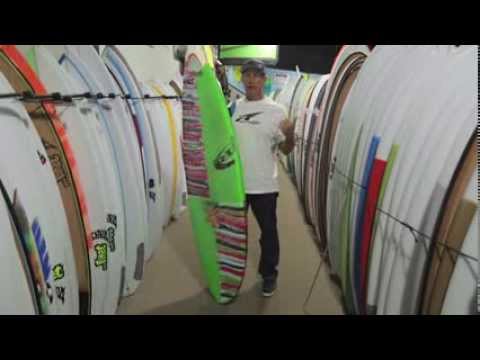 Check it out the full review here: http://www.realwatersports.com/news/lost-mc-hipster-t/
How Maurice Cole re-invented the rocker line and changed surfing.
By Nick Carroll
It was a wild time…a time not unlike right now.
Late 1991. The surf industry was battling recession. Pro surfing looked wobbly. No-one knew what was coming next. Then Tom Curren, the quiet man who'd done the impossible and gone from trials to a third world title the year before, stepped on to the sands of Haleiwa in Hawaii with a sleek yellow-railed gun.
In a couple of days time, he'd have demolished the finest surfers of his generation, again, this time to win his one and only Hawaiian title at the spot where he learned to surf. But at that moment, nobody's mind was on the coming performance. All anyone knew was that Curren's board had no sponsor logos.
Tom's naked board was seen as a statement … of something, no-one was quite sure what. The death of corpo-surfing? The great champ turned rebel to fit the times?
Truth was, Curren had just forgotten to bring the decals. He'd forgotten almost everything that day, according to Maurice Cole, who'd flown with Tom from France, and suddenly that morning found himself drafted to head back to the Kuilima condos at the other end of the North Shore to pick up the 7'3" Tom had left behind.
"I'm not a wallflower, but I've never driven that fast in my life," Maurice says. "Wrong side of the road, on the dirt, everything. I had an hour through contest traffic to get there and back. I made it in 40 minutes." Tom waxed up and went out in his heat and started winning.
Tom used the 7'9" on the bigger days at Haleiwa to blow away the opposition with some of his finest and most flexible moves.
The MC/TC collaboration arose two years before, following a surf at La Graviere, Hossegor, France. It was six foot plus, dredging and spitting on to La Graviere's bent-backward sandbar. Maurice was on a 6'8", getting pitted out of his mind, thinking this was the sort of day that made his move from Australia several years before seem like the smartest thing he'd ever done.
Tom paddled out on a 6'1" and – unusually for him – struggled to get on top of the conditions. Later in the parking lot, he shuffled up and said in his typical hesitant style: "Err, Maurice … I was wondering … ahhh … could you make me a shaped blank? … just the shape would be great. If you can."
"Well Tom, I have a whole surfboard factory, I can make an actual board for you."
"Err … OK … what were you riding out there?"
"6'8"."
"OK then, can I get a 6'9"?"
Out of this sort of collision comes great surfboard design. You can't plan it. Nobody ever has. Says Maurice, "It was a guy who liked surfing and a guy who liked making boards."
MC went back to the shaping bay and ripped a 6'9" out of a blank, without really even looking at it. Later he realised it was asymmetrical, different rails, the whole nine yards. This was the board that Tom took to Bells Beach and Santa Cruz in February and March 1990 and won both events from the first trials round, basically smashing the opposition before they'd known he was back.
The 1991 Hawaiian season and Tom Curren's performances on that yellow-railed quiver reinforced Maurice's reputation as a "surfer's shaper" – someone who could make a board that a top surfer hadn't even known he'd needed. They started beating a path to his door.
All this was happening because of an idea – a way of thinking about surfboards whose time was only just coming.
At a time when most designers were engaging in a measurement revolution – carefully noting each 1/16th of an inch off every half-inch of rail length, trying to do what the CAD cutter machines would soon be doing for them — Maurice shaped directly from gut feel and a kind of certainty formed from his own experiences as a surfer. In the 1970s as a champion Victorian surfer, he'd grown close to travelling Hawaiian pro Dane Kealoha and got into riding the forward-trimming semi fish twin-fins that Dane used to blow away the opposition in a wide range of surf.
The feel of those boards, tilted forward in the barrel and super fast down the line, gave him a deep feel for one of modern board design's great key concepts: the difference in rocker curve between the rail and the centre stringer line.
Mostly this difference is expressed in terms like "vee" and "concave", but truth is, these are pretty static terms to describe what occurs through the full length of a surfboard, as those rocker lines diverge then draw back together. What looks like concave when viewed across the board from rail to rail, for instance, may when viewed at an angle, suddenly appear to be flat, or even veed. A straight line from one angle is a curve from another.
MC's design instincts told him that a surfboard's dynamism resulted from how and where the changes in these rail and stringer rocker lines were created and resolved. That instinct was perfectly reflected in the birth of reverse vee, or forward vee as some took to calling it – a design that flipped the old idea of vee on its head, applying it through the first two thirds of a board then dropping it out through the tail where it was supposed to reside, replacing it with tail lift.
Maurice wasn't even sure why it worked – wasn't tail lift supposed to slow a board? Then he realised the change in relationship between rail and stringer meant the board now had a straighter rail line, meaning it flew in rail turns, while the lifted tail worked both as a water release and a perfect lever for short-arc turns. The whole thing felt so smooth, and it converted perfectly to guns; see Tom's Haleiwa win and Backdoor cutback for examples.
Maurice struggled to name his reinvention of the rocker line till one night at the old D'Amico's Pizza place at Sunset Beach, where he bumped into legendary shaper-sander Charlie Walker. "EEV," Charlie told him. "Vee back to front. Get it!"
There weren't too many pros who left France in 1992 or '93 without a couple of world-beating MCs in their board bags. This was now a part of the ritual for surfers from Occy and Curren  to the rising new school wonderboys Rob Machado, Shane Dorian, Shane Powell, and a little later Kelly Slater; hanging at Maurice's on those amazing late summer Hossegor days, talking life and design, surfing the epic beachbreaks, making boards, far from home yet totally at home.
EEV led directly to its seeming opposite, the radical concaves that MC began tearing into boards in 1995. Again it was a change in the relationship between rail and stringer line, this time transferring turning curve to the rail and straight line drive to the space between and just up from the fins. The 1996 quivers were legendary; a 6'0" version turned Slater's year around, getting him back to back wins in Hossegor and Biarritz and re-setting his title goals.
But by then the Hossegor days were drawing to a close. Soon Maurice would be off to Margaret River, Australia, laying a design foundation beneath the feet of another super rookie named Taj Burrow, and designing the fastest towboards on the planet for Ross Clarke-Jones. And those great boards were scattered: Tom's magic '91 quiver somewhere in South Africa after his epochal first J-Bay sessions; the first EEV (a slippery little 6'4") somewhere in the back shed; Machado's magic 6'3" somewhere in California.
Fortunately they were around long enough for Maurice to measure up and take detailed notes in his shaper's book – a kind of paper version of the computer. That's what allows him to reproduce this classic line of surfcraft in the modern context – boards born in a wild time, a time not unlike today, when no-one knew what was coming next.
Maurice's epic key design lines, including the original EEV models, Pro-Tow and Metro 3 superconcaves, are now available through …lost Surfboards in the USA.
Still pushing, still turning